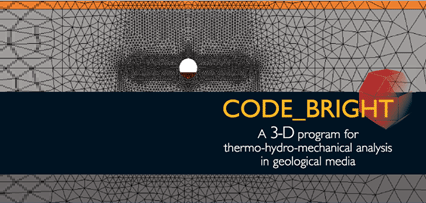 The 11th short course on CODE_BRIGHT will take place from 5th to 7th June 2019.
The course will be held at the Department of Civil and Environmental Engineering, located in the Polytechnic University of Catalonia (UPC).
CODE_BRIGHT is a general-purpose code for the 3-D analysis of coupled thermo-hydro-mechanical (THM) phenomena in geological media. Application fields cover geoenvironmental engineering and geotechnical engineering.
CODE_BRIGHT uses GiD as a pre and post processor.
The three days course will permit the participants to learn how works CODE_BRIGHT, from the fundamentals to solving advanced problems.
Participants are encouraged to bring their personal computers to be used during tutorial sessions. It is strongly recommended to use a Windows 64-bit operating system.
Register and find all the information and the detailed agenda in the official website of the course.